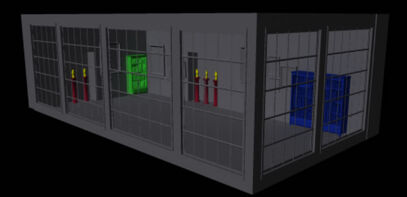 Ballroom is a SpyParty venue. This venue is generally considered the most balanced between spy and sniper, and in its original version was the first venue to be introduced. It is a long rectangular room, with floor-to-ceiling windows for two of the walls: a long one facing the sniper's starting position, and a shorter one on the right. The window panes are bordered by columns, allowing the sniper to block their laser and make it more difficult for the spy to tell what they're looking at but also allowing the spy to have a little breather behind them to complete missions. The sniper can view the entire room at once (minus narrow areas obscured by window columns), so unless the sniper is focused on one extreme of the room, the spy will need to rely on distraction or cover to hide their tells. The five conversation circles are arranged in an "M" shape (from the sniper's point of view). Along with the required pads to support the missions, it also includes pads for viewing paintings and looking out the windows.
Mission Specifics
Edit
Standard Quickplays
Edit
Beginner Ballroom: Known 4, 13 guests, 4:00
Intermediate Ballroom: Any 3/5, 13 guests, 4:00
Revel on a Hot Night: Any 4/8, 16 guests, 3:30
The Original (Old Ballroom): Any 4/8, 13 guests, 3:30
Community content is available under
CC-BY-SA
unless otherwise noted.