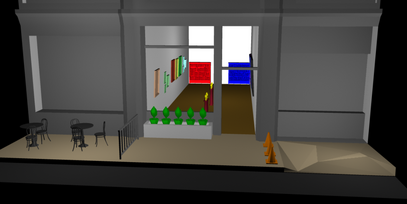 Gallery is a SpyParty map. It is notable for being quite narrow and deep, resulting in a lot of cover from other partygoers, particularly at the back of the room. The sniper is obliged to zoom in more often to get a better view of what's going on inside; this can cause them to miss spy actions taking place right in front of them on the sidewalk.
It is also unique in that local liquor regulations prohibit alcoholic beverages outside the building. As a result, Toby will not go out on the sidewalk, making it impossible to purloin the guest list there. NPCs will usually not go outside while holding a drink, though they will occasionally break this rule.
As one would expect for a gallery, there are paintings and statues for the guests to view.
The entrance to the gallery is rather narrow, resulting in a fair amount of congestion for partygoers wanting to go in or out. This can make effective pathing difficult for the spy. It is advisable for the spy to attempt to time their trip through the door when there aren't as many NPCs moving through.
Mission Specifics
Edit
Standard Quickplays
Edit
Street Art: Any 4/8, 21 guests, 3:30
Aesthetic Depths (Old Gallery): Any 4/7, 20 guests, 3:30
Community content is available under
CC-BY-SA
unless otherwise noted.