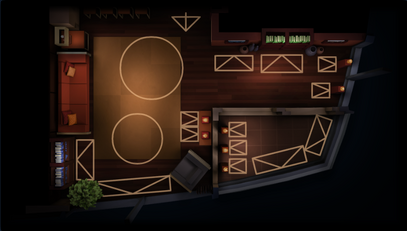 High-rise is a SpyParty map. It is an apartment in a luxury high-rise building with a balcony, with both indoor and outdoor play areas. It also features two panes of frosted glass; vague shapes can be seen through them, but details are obscured. The glass stops the sniper's laser, though the beam can be seen striking the glass from the other side. The sniper can shoot through the glass, as well.
It was designed to be larger than Balcony but smaller than Ballroom in order to properly accommodate the ten "new art" characters to use as a demonstration and tutorial map for PAX 2014. It was initially created in the "programmer art" style, and after gameplay tuning it was updated to the new art style for PAX. Unlike most maps, the old art style version of High-rise was removed from the game when the modern version was introduced.
Mission Specifics
Edit
Bug Ambassador: The back of the rear conversation circle can make for a good bugging location.
Contact Double Agent: The sniper can watch both conversation circles at once.
Transfer Microfilm: A plant on the left makes it more difficult to see what is happening at the nearby bookcase, though a sniper that is staring at it will still be able to see what's going on,
especially if they move right a bit. A pillar and the frosted glass can partially obstruct the other bookcase from certain vantage points.
Standard Quickplays
Edit
Beginner High-rise: Known 4, 10 guests, 4:00
Intermediate High-rise: Any 3/5, 10 guests, 4:00
Spy-rise: Any 4/8, 10 guests, 3:30
Sniper-rise: Any 4/7, 10 guests, 3:30
Short and Suite: Any 3/5, 10 guests, 3:30
Community content is available under
CC-BY-SA
unless otherwise noted.