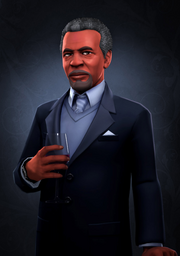 Mr. D is the temporary name of one of the new art style characters. He is an older man of African descent, with dark grey hair and a dark grey goatee. He wears a dark blue suit with a white pocket square, a light blue sweater vest, and a light blue shirt with a blue striped tie and a watch. He also carries a cane in his left hand.
The SpyParty community sometimes calls him "Morgan Freeman," due to his resemblance to the actor of the same name. The internal game files also refer to him as Morgan. He has also been called "Papa Danger," owing to his looking like an older version of one of the Danger Brothers. He is also called "Cane."
Mr. D has the most subtle bug animation of any character, especially with his left hand (the one which holds the cane). For this reason, snipers may pay extra attention to him when he is a possible spy.
Community content is available under
CC-BY-SA
unless otherwise noted.