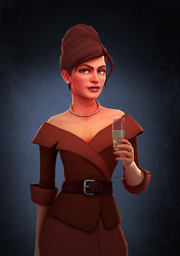 Ms. B is the temporary name of one of the new art style characters. She has green eyes and brown hair worn in an up-do, with a single lock hanging down the left side of her face. She wears a brown, off-the-shoulder top with large lapels and cuffs and a wide belt, a brown skirt and brown, knee-high boots. Her outfit is accessorized with pearl earrings and a pearl necklace. Rather than wear a watch, Ms. B pulls her iPhone out of Hammerspace to check the time. It always reads 11:43.
The internal game files call her "Emma." She is referred to as "Boots" or "Buns" by the SpyParty community.
Community content is available under
CC-BY-SA
unless otherwise noted.