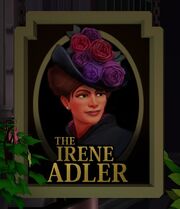 Pub is a SpyParty map, inspired by traditional London pubs. It is notable for having all its conversation circles outside on the sidewalk, and for being the first map released where Toby acts as a bartender instead of a waiter. The pub is named The Irene Adler, which is a reference to a notable character in the Sherlock Holmes short story, "A Scandal in Bohemia." Ms. Adler is held in high esteem by Holmes as a woman of intelligence and resourcefulness, and after his encounter with her is always referred to by the respectful title of the woman. It is also a reference to a well-known pub in London called The Sherlock Holmes.
Unlike most maps, Pub was not based off an old art map.
Mission Specifics
Edit
Standard Quickplays
Edit
Beginner Pub: Known 4, 16 guests, 4:00
Happy Hour: Any 4/7, 16 guests, 3:30
Rush Hour: Any 3/5, 10 guests, 3:30
And Be Merry: Any 4/7, 10 guests, 3:30
Community content is available under
CC-BY-SA
unless otherwise noted.