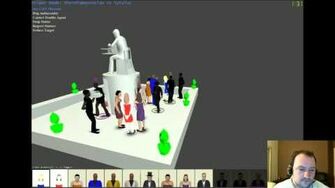 The Time of Chaos (or ToC) refers to the first few seconds of a game. When the game starts, the characters are placed at random locations on the map. Each character then chooses where they wish to go and starts moving there. Since all characters are moving simultaneously, the seconds before everyone "settles down" are the most chaotic of the game. Spies will sometimes attempt rush missions during the Time of Chaos, especially one with a hard tell like Bug Ambassador or Swap Statue. This can be especially advantageous since the sniper is often occupied with memorizing statues during this time.
Community content is available under
CC-BY-SA
unless otherwise noted.